Making the most of front-office technology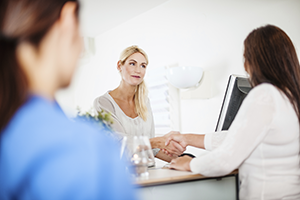 The healthcare industry has seen a wave of change in recent years that has extended into the physician's front office. Staff responsibilities such as scheduling, patient service, and billing have been affected by changing payment models and consumerism in healthcare.
These changes have brought a lot of stress, but there is good news. Healthcare IT has responded with an array of innovations to make your front-office work easier and your practice more profitable. Some of these improvements employ system features that most practices already own, or that can be deployed at little to no cost. The key is knowing what's available and how to position your practice for success.
Please join us as Laurie Morgan, partner and senior consultant at Capko & Morgan, a medical practice management consulting group, discusses how to:
Find out about affordable top innovations




Understand the differences between front-office innovations and platform technology – and why it matters




Simplify your registration process to transform practice efficiency




Rethink your front-office workflow to get the most from technology




Enhance patient collections, marketing, and patient services – all at once



This 1-hour webinar event is sponsored by Quest Diagnostics as part of our ongoing commitment to improving access to information and insights.
Making the most of front-office technology
Wednesday October 25, 2017
1:00 pm ET
---
Fill out the form below to register for the live session or have the recording sent to you.